Gray sky does not have to mean boring indoor life.
During winter walks, you may want to simply winter through the spring. But there is joy to be found in the quieter months of the year.
Although the trend may have come and gone in the United States, the art of hygge, that feeling of being very comfortable and content is just part of everyday life in Denmark.
The thing is, the Danes know how to thrive in winter. You may already know that they are the happiest people on earth, but did you know that many of them attribute their inappropriate solar appearance to their domestic and self-care habits?
When it's cold and raining, you might hear the siren song from your favorite TV streaming service. Aah, sweet, lonely over-looking! But if you'd like a more satisfying way to spend a cold evening, here are some ideas for channeling the Danes and making a deliberately delightful day out of gloomy weather.
1. Set the mood
Candles are a key ingredient to a super comfortable atmosphere. They not only provide a nice soft light, but also add warmth and smell to your space.
Tip: Choose seasonal scents to inspire a holiday, or choose a summer scent, such as coconut and flower, to help combat the seasonal blues.
2. Baku ion
Cake is central to the comfortable experience. But it doesn't just start when you eat the cake (or cookies or pie) – it starts when you buy the ingredients.
Go to your favorite market, carefully choose your ingredients and mix them very carefully, taking your time to enjoy the task. It's just an advantage that your baking will flood your space with delicious scents – and will taste great too.
Tip: Call a friend or family member whose recipes deserve appreciation, and ask if they could show you how to develop their show skills. Baking together becomes a beautiful afternoon, no matter the weather!
3. Add texture
Happy projectiles, sheepskins and cushions contribute to much more invite space. Cover your surfaces with as many luxurious fabrics and cushions as you can find and wrap around.
Tip: Please drop by, or if cost prohibits, find cheap alternatives.
4. Invite people
Do you tend to hide from your friends as soon as the days get shorter? Fight the urge to retreat, and invite your closest and dearest (or those you want to know better), to share your comfort. Bonus: Ask them to bring a bottle of your favorite seasonal drink!
Tip: Few funds but want to arrange dinner? Ask everyone to bring an ingredient for soup, and make it together, or just plan an informal pot.
5. Exit the board games
If they have collected dust, now is the time to take them out! Whether you're targeting the competitive strategy genre or ridiculous social games, there are options for everyone. For the minimalists among us, even a deck of cards can offer fun.
Tip: Long-distance friends and loved ones? There are many game programs that you can play from all over the world. Start a game and keep your links up all year long!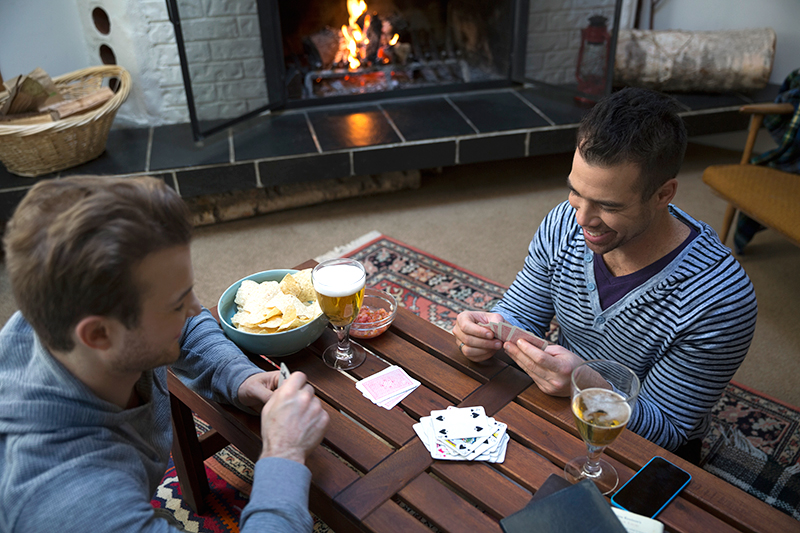 6. Perfect your hot drink
Hot cocoa, hot babies, apple cider, hot wine – choose your poison. Whatever it is, find your own special recipe so delicious that you can't wait to show it off. Then invite those friends again!
Tip: Well, yes, you can put whiskey in those drinks. But it's usually a good idea to perfect a mock-up version even for friends who don't drink.
7. Embrace sweaty weather
If you don't already have a favorite sweater, it's time to find one. It should be something that makes you feel at home when you put it on. Kashmir, wool, mohair – everything will work. Whatever you choose, pair it with thick socks!
Tip: Start knitting, crocheting or weaving a circle, and make your own sweater during the winter. It's easier to go through long projects when you're sitting next to a friend – and it's a great excuse to get together every week, no matter the weather.
8. Clean up your cold outside playlist
Make yourself a mix of music that inspires you to do all those things that make you feel absolutely fond of your space. Put it in a mixture, relax, repeat.
Tip: Instrumentals are classic for some reason – they can serve as a backdrop for just about anything. If in doubt, most music services have pre-formed playlists, some of which you can filter by mood.
9. Perform seasonal activities
To make caramel apples? Check. Are you processing (or giving up) your New Year's resolutions? Check. Preservation, puddle jumping, snowballing, spring signs? Check it out!
Tip: Whatever your favorite seasonal activities, create a plan to accomplish them – put it on your calendar, set a reminder on your phone, or find a "responsible partner" (a friend or family member who will give you the push you need), and feel the magic of even the worst weather over you.
Originally published in October 2018.